The Santa-A-GoGo Big Teddy Bear Giveaway Santa Drawing Contest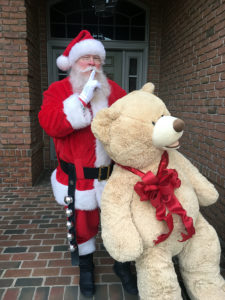 Eligibility:
Children ten years of age and younger living in Central Pennsylvania. (Dauphin, Cumberland, York, Lancaster, Perry, Lebanon, Franklin and Adams counties.)
Contest Period:
The contest runs from November 13, 2017 through December 13, 2017.
Entering the Contest:
Children can enter the contest by drawing "Santa Claus" on a piece of plain.
Submitting a drawing:
Please be sure to include:

Parent or Legal Guardian's Name

Childs Name

Age

Address

Phone number
Email drawing to:
Submission must be received no later than December 13, 2017 at 11:59pm EST. Children may use whatever coloring items they wish, including crayons, markers, colored pencils, etc.
Ownership of Entries:
All entries submitted to Santa-A-GoGo in connection with this contest, along with all copyright, trademark, and other proprietary rights associated therewith, become the property of Santa-A-GoGo upon submission. Entry materials will not be returned to any entrant. By submitting an entry, you acknowledge that if you win the drawing contest, Santa-A-GoGo will own all rights to use, modify, reproduce, publish, perform, display, distribute and promote the artwork in perpetuity without compensation to you or any other person.
Selection of Winner:
Santa will choose one grand prize winner of the Big Teddy Bear. The winner will be contacted on December 15, 2017.
Prize:
The Grand Prize is a 53" plush Teddy bear. The winning design will appear on www.Santa-A-GoGo.com and may appear on other marketing materials for Santa-A-GoGo.
Use of Name, Likeness, Etc.:
As a condition of receiving the prize, the winner as well as their parents or legal guardians will be required to consent to the use of their name, age, and area of residence. You must also consent to using your likeness (as in a photograph or on television) and prize information, without limitations, for promotional purposes and media interviews without further payment.
Release:
By entering the contest, winners and their parents or legal guardians release and agree to hold harmless Santa-A-GoGo, and each of their partners, employees or volunteers, from any liability whatsoever in connection with entering the contest, accepting any prize, or anything that may arise related to the contest.
Entrants agree to be bound by these official rules and the decisions of Santa-A-GoGo.
If you still have any questions, send an email to santa@Santa-A-GoGo.com
---