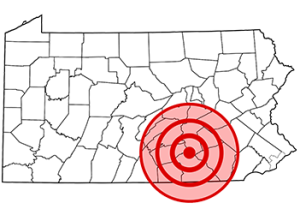 Santa Claus is now visiting good boys and girls in Central Pennsylvania. Santa's Central Pennsylvania's workshop is conveniently located in Camp Hill and serves the eight counties of Central PA, Dauphin, Cumberland, York, Lancaster, Perry, Lebanon, Franklin and Adams counties. Santa Claus will travel anywhere to bring Christmas Cheer to you, your friends, family, children and customers… with a small additional travel fee outside of the 30 mile radius of Camp Hill. If you are outside any of these counties… give Santa Claus a call and let see what he can do. Remember what Santa always says: Have Sleigh… will Travel.
To schedule your Christmas Party visit or workout the details, email Santa at Santa@Santa-A-GoGo.com or call Santa's Workshop at (717) 216-6767.
---
Commercial and Corporate Santa Claus Visits
Are looking to have Santa Claus greet your customers at your retail store? Maybe you would like Santa Claus to hand out gifts at your company Christmas party? To discuss and schedule your Corporate Santa visit and workout the details, send an email to Santa@Santa-A-GoGo.com or give us a call to reserve your very own Santa Claus today!